It is a well-known fact that surprising a dad is difficult but to amaze him with the perfect father's day gift is near impossible. Finding the best Father's Day gift for your dad is like scrounging a coal mine for diamonds. You'll never know which gift will suit him the best, moreover, you'll always be left in the dark, wondering whether the gift will be practical for him or will it just be a shelf toy ready to garner dust.
So to help you out of any further dilemmas, this father's day gift guide will give you plenty of options to choose from and will help you select the most meaningful gifts that he'll cherish forever.
Thoughtful Father's Day Gifts That Will Surprise Your Dad
1.  Vintage Attache Case
For all the office-goers dads this Vintage Attache Case is a strong contender for the most meaningful Father's Day Gift. Handcrafted from genuine leather and padded with cotton inside, the Vintage Attache Case will make a comfortable commuting partner while also giving him space enough to store his standard laptop and important documents in one go.
2.  Flower Pots
Every father has a recreational activity that could range from golfing to gardening. So, If your father happens to be a part-time greenskeeper then gifting him an exotic or beautiful flower or plant pot will be a gesture of supporting his skills. In all sense, it will make a creative Father's Day gift even for non-gardeners.
3.  Grenadier III Bag
With a design inspired by the military ranks of Grenadiers and the bags they used to carry, the Grenadier III bag will be your dad's favorite. Call it a craving for an action-filled life or just a token of it, this bag will be a side-buddy for all your dad's adventures thanks to its sleek silhouettes handcrafted by master craftsmen that give it a peerless quality and style. This bag might be all that your dad needs this Father's Day.
4.  A Luxury Watch
Guess what makes a timeless Father's Day gift? A luxury watch that suits his daily wardrobe as well as routine. A watch for your dad is the safest gift you can get him this Father's Day. He'll love it if the watch suits his personality and taste, he'll love it even if it doesn't.
5.  Doctor Bag
Where impromptu adventures and weeklong trips are involved, this genuine leather and canvas Doctor Bag will be your father's refuge for all his convenient wayfaring. Designed to suit life on the move, this spacious and stylish bag will remain faithfully by your dad's side even through a dozen hotel checkouts and gym sessions.
6.  Golf Kit
Playing Golf is the quintessential father activity. So why not gift him a Golf Kit to encourage his sports worm outside the television or help him beat his friends and colleagues at the game with sophisticated equipment that all will covet. This Father's Day gift will not only prove to be practical but also meaningful.
7.  Bar Tool Kit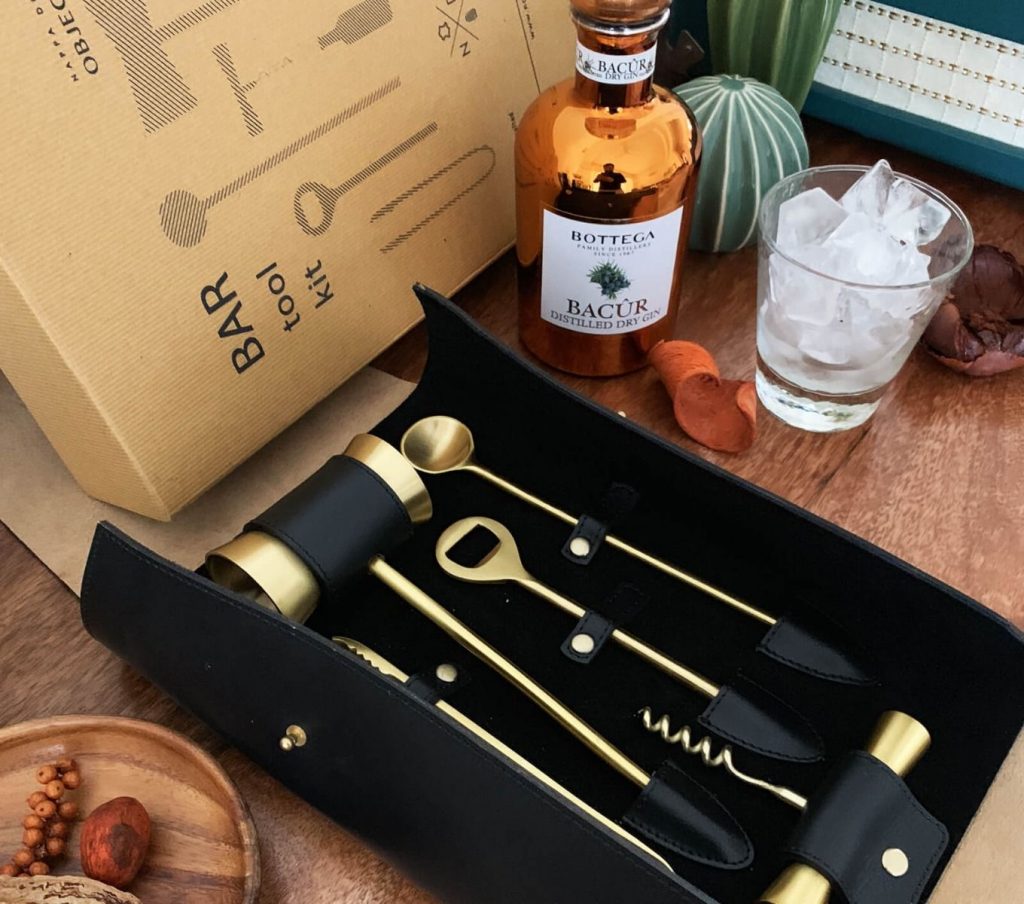 All dads love their drinks but what they love better is to make them themselves. In this case, a Bar Tool Kit will upgrade his bartending skills, allowing him to mix, thaw, and serve with the true flair of a bartender. If your father loves to tipple, this Father's Day gift will be his drinking companion for each of his after-dinner meditations.
8.  A Personalized Pocket Knife
Whether for fishing, camping, or simply boasting, a personalized Pocket Knife will be the new plaything for your adventurous father. Get him one this Father's Day and he'll never miss an opportunity to flaunt it to the family or his friends.
9.  Cheese Knife Kit
For a dad who claims to be a food connoisseur, gift him a Cheese Knife Kit to put his cooking skills to test. This meaningful gift can help him experiment with his art from day to night through a hand-forged trio of brass slicer, fork, and knife that comes in a canvas cutlery roll-up, ready to be taken outside for a brunch or a barbeque.
10. Grooming Kit
A dad who is very particular about his appearance deserves a Grooming Kit, a dad who is not, deserves it as well. You can help your father make a statement through his looks by gifting him a grooming kit that will make his haircare routine healthy. This Father's Day, help him improve his bearing through really good grooming products
11. Toolkit
Those dads who like to get their hands dirty will definitely appreciate a Handy Toolkit as a Father's Day Gift. Rolled in genuine leather and cotton canvas, this toolkit features an arsenal of various tools that will help your dad repair just about anything in and around your house. In summary, this will prove to be the most practical gift for a handyman dad.
12. A Turntable
A Turntable Record Player will give your father an opportunity to walk down memory lane while also nurturing his nostalgic taste for music. He will cherish this meaningful Father's Day Gift for a lifetime of memories. You can also gift him the Vinyl records of his favorite artists and albums and watch him enjoy the golden age of music.
13. DIY Belt Kit
For an interactive gift that will help you spend some quality time with your father, DIY Belt Kit is the best Father's Day gift that you can give him. Accompanied by all the essential tools and materials that he will need to craft his own belt, this DIY Belt Kit is your excuse to share a father-offspring duo as well as sweet memories that will last forever.
14. Picture Frame
Where memories are concerned, a picture frame will be a perfect fit for your father. Ideal for his office desk or bedroom shelf, a picture frame will decorate not only his space but also his mind. He will be able to cherish his past recollection just by a look.
15. Glass Candle Gift Box
For a distinct sensual experience, this scented Glass Candle Gift Box will make an ideal Father's Day gift. Help him unwind from the day's tribulations through a woody aroma and a smooth spicy note that will readily recuperate the ambiance of any space. Overall, a thoughtful gift for a meditative dad.
16. Running Shoes
Make him health conscious this Father's Day by gifting him a pair of running shoes. This will help him keep up with his health. Not only that, you can stylize his appearance while helping him keep in shape by giving him a pair of shoes that he'll love to have.
17. Leather Organiser
If your father fancies stationery that is professional as well as practical, this Leather Organizer will fulfill all his wishes for Father's Day. Handcrafted in genuine leather and accompanied by a Classic Logbook, this Leather Organiser will make a perfect Father's Day gift for your working dad.
18. Alps Backpack
The Alps Leather Backpack can help your dad find adventure and exploration even in the urban spaces. Equipped with peerless quality marked by precise craftsmanship, this backpack is a stylish retelling of classic backpacking that your father will love with all his heart. This Father's Day gift will surely surprise him.
19. Leather Wrap Sleeve
Whether to protect or store his standard laptop or keep his important documents under one roof, this Leather Wrap Sleeve will help him in a number of ways. Its sleek genuine leather shape is designed to fuse utility with refinement, allowing your dad to make a style statement.
20. Harness Leather Organiser
From A4 notebooks and stationery to an iPad Mini, this harness organiser is equipped to help your dad carry it all conveniently. Its genuine leather silhouettes, handcrafted by traditional artisans easily make it among the best Father's Day gifts for an office dad.
Conclusion
With this meaningful Father's Day gift guide, you can finally surprise or even impress your father or father figure with gifts that will last a lifetime. He will surely appreciate your endeavor.