Dubai boasts millions of tourists from all around the world and these include some of the biggest global superstars. This week, Desperate housewives star Eva Longoria made her way to the Emirates and then into the Dubai Mall for some Christmas shopping after a day well spent in the desert. While at the mall she complimented the mall of its minimalistic interior that would serve as a great background for her selfies.
Longoria also witnessed an authentic creation of Arabic Coffee in the desert accompanied by her son, Santi, and commented on her Instagram that it was better the Starbucks after tasting the aromatic wonder.
On Monday, 16th December Longoria gave a shoutout on her Instagram Stories to the infamous Gia, an Italian restaurant in Dubai Mall.
As her tour went along, Eva Longoria fixed herself a life-size dinner like the Superstar she is and ordered the Gold Steak at Nusr-Et Steakhouse, founded by Turkish butcher Nusret Gokce, popularly known as Salt Bae. Longoria went ahead and documented the whole thing on her Instagram stories which show a waiter at the restaurant slicing up a gold-plated steak. The Nusret Golden Steak is one of Salt Bae's signature dishes; the 400-gram ingot cut of sirloin covered in gold leaves goes for Dh1,250.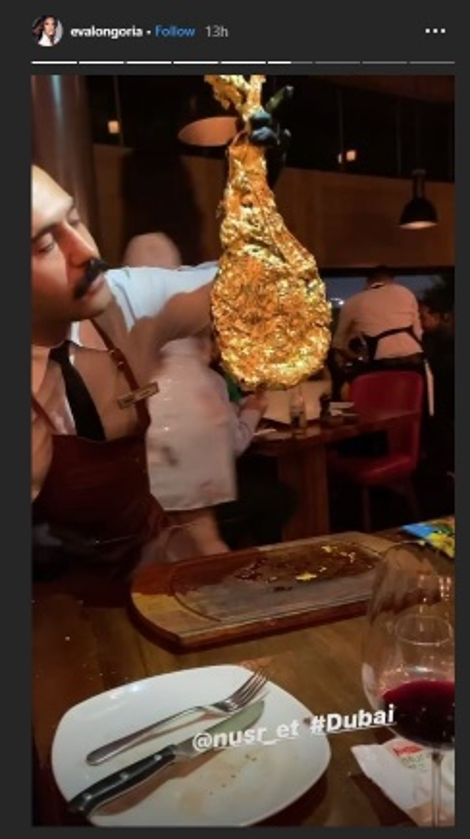 She also posted the infamous sprinkling of the salt, Salt Bae style by the waiter. She later posted a very happy video of herself shaking her head in delight along with her son at the restaurant which must mean that the meal was more than satisfactory. She also tagged Nusr-Et Steakhouse on Instagram, thanking them for an amazing meal.
Eva Longoria has been to UAE many times in the past years and this visit was to attend a Charity Gala by Global Gift Foundation where she was accompanied by Middle Eastern Business Mogul Huda Kattan and Bollywood Superstar Jacqueline Fernandes.