Remote working is the new way to earn the livelihood amidst coronavirus. With offices closing down and schools taking an early summer break, home has become the new place where not only you used to rest but now be 100% productive.
Not the same thing will work for everybody, everyone will need their own customised solution. People working for only a shorter amount of time will not have much problems but it is workers who have to put in 8-10 hours from home that need to do the hardcore planning of utilizing their home space and turning it into a work space.
Sticking to the routine is what will be greatest challenge for many as leisure and work cannot mix and home is right now the place for both, Self-discipline is why much of the advice about working from home. For some, working from home is a foreign experience that will require some lifestyle adjustments.
To handle that anxiety and be more productive, here is a list of things that will enable you to work and focus at max all the while enhancing your productivity.
Ventilated adjustable laptop stand – Buy for 70.99
When working from home, not everyone has the same eye to laptop balance as one does in their offices and people end up looking way down or way up, not feeling 100% comfortable all the while working. An adjustable laptop stand is a must as will bring your display up to eye level and help you sit up straighter.
A good ventilated version of a laptop stand will make sure that none of the surfaces of the stand neither the laptop itself heat up and eventually set an unprecedented fire by overheating. A ventilated laptop stand has many safety benefits as well as ergonomically beneficial.
Noise Cancelling Headphones
Not only are people working from home but children are studying from home and various other activities are being done from home under this lockdown. So this makes the home space rather constricting as everyone has their own thing going. The best way to give 100% to your own work without the distractions around you is to invest in a set of good noise cancelling headphones.
There are some excellent and affordable options in the market that are comfortable to wear, compatible with pairing to your phone or computer, making those video calls much smoother. You can either opt for the classic gaming style headphones or airpods style.

Anker Soundcore Life P2 Bluetooth Wireless Earphones
Crystal-Clear Calls: Each earbud has two microphones with beamforming noise reduction
Incredible Sound Powered By Graphene Drivers:
40-Hour playtime: with fast charge: a single charge gives you a full 7 hours of listening.
IPX7 waterproof: 

Anker Soundcore Life Q20 Hybrid Active Noise Cancelling Headphones

Hi-Res Audio—a certification only awarded to audio devices capable of producing exceptional sound.
Reduce Ambient noises by up to 90%
100% stronger bass:
Up to 40 hours of non-stop playtime in wireless active noise cancellation mode
Memory foam ear cups gently mold around your ears
Many of us don't have the huge desks or spaces that we have at our offices so to make the best out of the remote working situation is to be smart and invest in an arm mount for that huge monitor that will save you the safe and give a clean, less cluttered look to your work station. This will not only help you reclaim some of your workspace but also great ergonomically as you can have the freedom to adjust the screen anyway you like.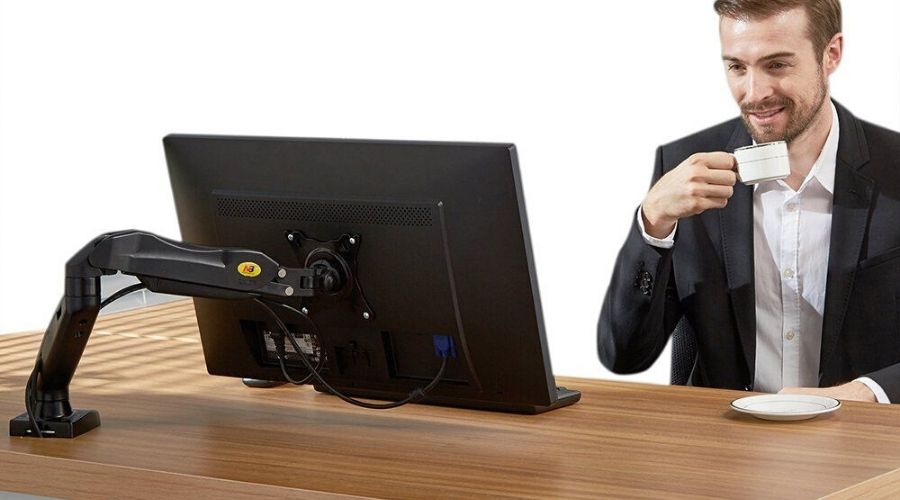 Most arms come are VESA compatible and have built-in cable management. The arm is easily rotatable and detachable making it easy for you to customize the positioning of your screen.
For a smooth sailing work from home experience, the equipment should be a fluid as your movement in your home office, so investing in a wireless mechanical keyboard is a must. There are many standard to intricately designed wireless keyboards on the market that are affordable yet get the work done. Wireless keyboards offer portability and flexibility to the user as the user can move the keyboard around without having to keep it directly on a desk.
The main advantage of using a wireless keyboard rather than a regular keyboard is that it offers much more mobility. And they take up less space than a traditional keyboard as there is no hassle to plug it in and yet another wire to take care of.
Mouse is of utmost importance while working as hovering and just moving around the screen cannot be done with a blocky mouse. Investing in a mouse with the right grip, shape, weight and smoothness that allows mobility to move around the desk will give you best results in your work on the screen.
Many people don't use the scroll pad of a laptop for longer working hours of work as that just puts a strain on ones hands so wireless mouse is usually paired with them too. A mouse is just more ergonomic to use than a trackpad. The right size, how it feels in the hand and smoothness of the scroll wheel can bring the charm to your work.
Under the lockdown, the place where we eat, sleep and work have become the same. So it does not take much will power to jump from your couch to your work station back into your bed just because they are right in front of our eyes. This strains not only the back but also eyes, hands and the head.
Standing work station gives a refreshes, are growing in popularity and for good reason. An Adjustable Standing Desk won't take a lot of space and give you unlimited benefits at the same time. It has proven to help stay focused and build momentum for an overall more productive day.
These are not the time where any old chair will suffice the heavy remote working of 8-10 hours, investing in a chair that supports your back, arms and neck is of utmost importance. There are many chairs on the market that have a range of features that can help you in your productivity without breaking the bank.
The chair should move as you move along the day and should conform to your adjustability. A comfortable ergonomic chair, designed for maximum lumbar support, will help minimize back pain and let you focus. Research has found that employees who were given an ergonomic chair reported fewer negative symptoms throughout the day and a total increase in productivity of 17.7%.
To avoid negatively impacting your vision and overall health, good lighting is a must have in your work station. Adding a secondary light to balance out your overhead or window lighting reduces lighting contrast that can cause headaches. There are many smart lights that are adjustable and have levels of brightness as per your requirements.
Adjustable desk lamps can make you more active and productive with cool light, or they can calm your mind and help you prepare for sleep after late-night work with warm hues. Eye-caring have the best combination of color temperature and brightness options, physical adjustability, and aesthetic appeal.
USB Adapter – Buy for AED 149.00
Plugging in across various devices is going become the new thing as our homes are not designed like smart offices where all everything is pre-installed. So a good USB Adapter will be the life saver under this lockdown. A keyboard, mouse, the charging cable, and maybe an SD card reader, or a laptop to a monitor, endless couplings will need to be done at the same time and a good USB Adapter will do just that.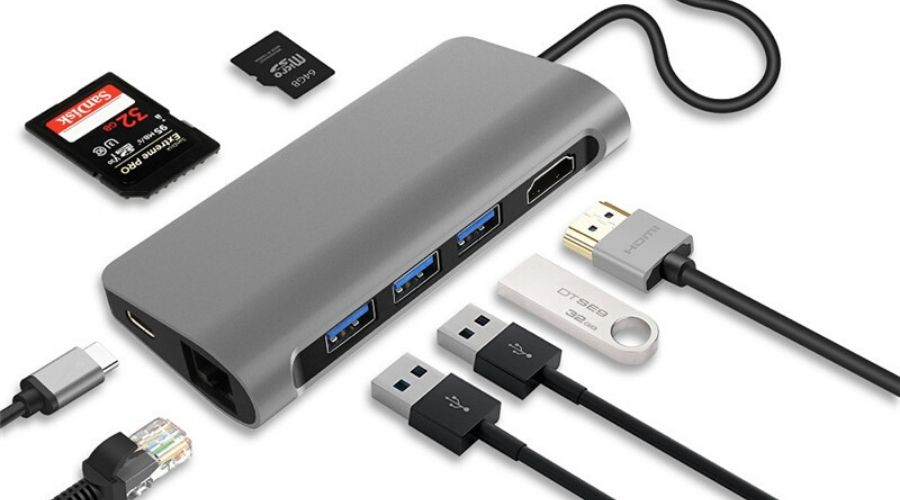 Equipped with multiple docks, USB Adapters are the tool of a multitasker with charging a laptop, connecting a second monitor, coming with a headphone jack and much more.
Your desk is the core and fundamental building block of your entire work station at home, and if that is not right, no amount of additional equipment can enhance your work experience. A sturdy yet smartly sized desk is what you should invest for your home that does not take up too much space yet is big enough to fit all your equipment.
Investing in one is essential as this is the ideal for anyone who takes their work seriously and increasing productivity. What matters most is how it fits you— your height, your hands, and your sitting style.