With the whole world halting in response to COVID 19, staying at home is of utmost importance to literally survive this pandemic. To maintain health and sanity, a regular routine that involves a planned workout is of essence
The fitness industry has responded to the current crisis by providing free and paid workout sessions online for their customers, having exercise equipment has become a must. And people are getting their hands on anything that they can and the equipment if selling out like anything.
Exercise is not only a great way to stay active and in shape but also taking your mind off of the current situation and the anxiety it brings. There is plenty of exercise equipment at reasonable prices that you can buy for home workouts.
"You don't need a gym to be fit unless you're a hardcore weight-lifter," according to certified personal trainer Bryan Goldberg. "The average person can get fit and stay fit in the confines of their bunker."
But not many people know where to begin, so here we have listed down a few equipment that can help you stay active even when indoors.
Fit Simplify Resistance Bands
Try investing in a set of really great resistance bands if you are looking to gain muscle but don't have all the equipment including weights to do that at home. There are a vast number of exercises one can cover by investing in resistance bands. Resistance bands allow you to cover a full-body workout routine while gradually increasing the tension as you progress in strength. They are remarkably handy, don't take too much space and are much cheaper than any heavy equipment or dumbbells.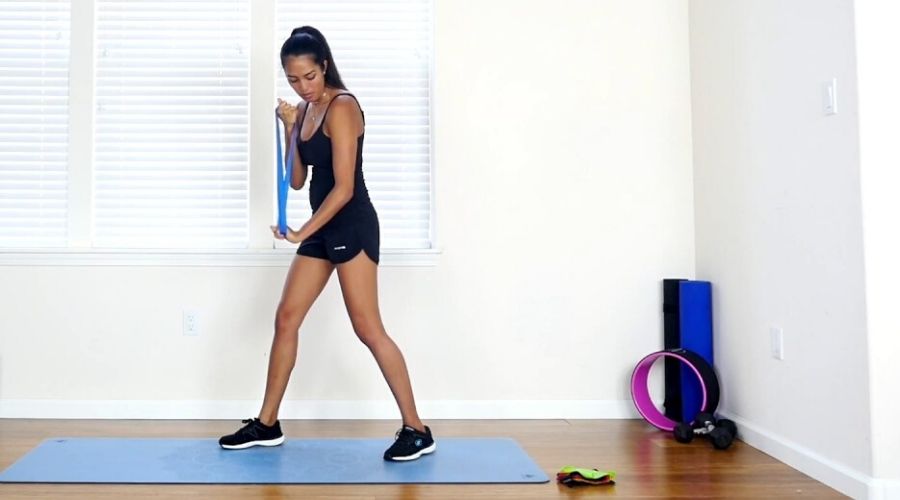 "You can use them when injured for recovery, to warm up for activation, to create extra resistance for your strength training program, they're great for stretching, can be used for so many different exercises for lower and upper body, and you can get different levels of resistance," says Anna Whiteside, Co-Founder of Australian fitness brand Unit Nine.
"Fit Simply" set comes with five 12×2-inch loop bands of varied resistance—from extra-light green to extra-heavy black. They're made of 100-percent natural latex, are TPE-free, and come with a lifetime warranty.
Buy Fit Simplify Resistance bands for AED 69
Yoga Mat
It greatly pays off to own a yoga mat at home as hard floors can strain your back and a towel or carpet may slide under you while you're doing complex poses. Try investing in a yoga mat that sticks to the surface, has the right thickness comfortably cushion your spine, hips, knees, and elbows also support your joints while you're practicing yoga. Light, easy and portable to use anywhere, yoga mat provides high levels of comfort so that you can practice without worrying about stressing your knees and ankles.
Manduka's care instructions recommend a salt scrub to "break in" the surface of the mat, which can help.
Buy Manduka's Yoga Mat for AED 242.22
Jumping Rope
Burning calories, Weight loss, getting your heart rate up, these are some of the benefits of owning a jumping rope. Buy yourself an adjustable, tangle resistant jumping rope and do your essential cardio workouts with this little beast.
It has been proven that 10 minutes of jumping rope can equate to 30-minute jog, so don't wait and invest in one today.
Buy the Jumping Rope for Just AED 33.99
Pull Up Bar
Put it on your bedroom door and get some chin ups in before breakfast. It is a great way to work out and extremely portable at the same time. It is a great workout for your back, abs, shoulders, chest, arms, lats, triceps, and biceps. By performing pullups regularly, you'll work the forearms and shoulders.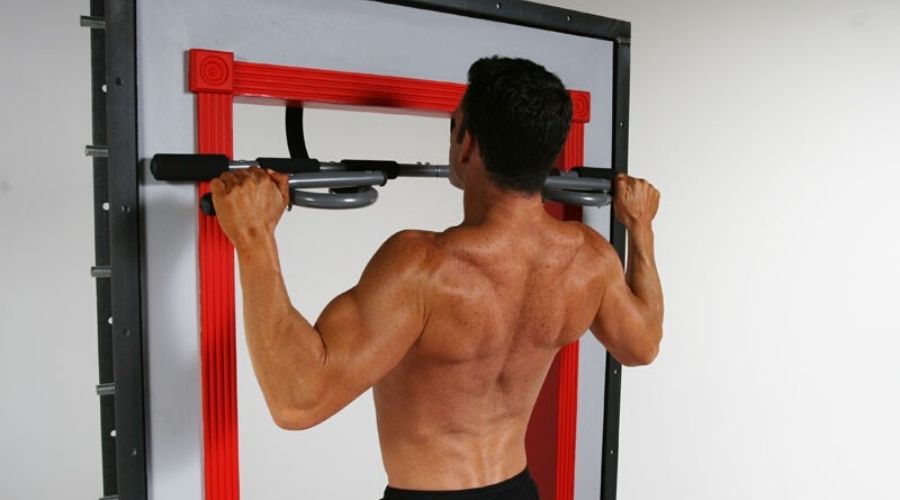 And if you lift weights, grip strength is important which the pull up bar only improves. It can also help reduce resting blood pressure and may reduce back pain and discomfort associated with arthritis and fibromyalgia.
Buy Portable Pull Up Bar for AED 68.99
Exercise Balls
Strengthen your core, improve balance and use it for yoga, a fitness ball is an all in one workout equipment. It stimulates the deeper trunk muscles that are important in supporting the spine, and reduces static loading on any one structure in the spine.
The ball is great if you have back problems because it supports your lower back as you exercise and stretch.
Buy Top Sky Home Yoga Ball for AED 36
Revoflex Abdominal Wheel ab Rollers
Despite its simplicity, ab rollers are the ultimate fitness equipment. To mention a few knee-roll out, ab wheel plank, narrow-stance front roll-out and wide-stand front roll-out just are some of the exercises an abdominal roller helps perform.
Great for mobility and stretches, ad rollers are a versatile equipment that don't break the bank
Buy Sky Land's Ab Rollers for AED 39.30
Treadmill
One of the most famous home equipment is the treadmill, which allows individuals to walk or jog without having to go outdoors. One of the most obvious benefits of using a treadmill is that it helps you lose weight. Calories shed off easily as you walk or jog on. Running for just 20 minutes at 10 km/h will burn 229 calories. And if you can kick it up to 12 km/h, you'll burn almost 300 calories. If you combine your workout sessions with a healthy diet, you'll reach your weight loss goals in almost no time.
The minute you start on a treadmill, you are improving the health of your heart as Treadmills give a great cardiovascular workout. Walking or running on a treadmill strengthens and tones your calves, butt and quad-muscles. Treadmills are a convenient way to make sure that you're getting the exercise you need to stay healthy.
Walking one a hour a day on a treadmill will be fine for cardio. If someone is a beginner they can start with 30 minutes and then slowly ramp it up everyday by five minutes and also increase the speed and angle incline.
"Everyone should workout on the level that's comfortable for them, it will obviously vary between beginners and those who are more advanced," said Basheer Jadallah, a certified personal trainer.
Buy Sky Land's home Treadmill for AED 1,599
Push Up Bars
The most recognized benefit of push up bars vs regular push-ups is that they are easier on your wrists. They are known to provide better pushup workout then if you do it plainly on your own hands. You increase your range of motion, when you do pushups from bars vs regular pushups.
Pushup bars are also not just limited to pushups rather if you are a gymnastic, you can benefit from this equipment a lot.
Buy 9 in 1 Push Up Board for AED 141
Chest Expanders
Improve your overall body tone and structure by working on your chest. The resistance shown by the cables on this equipment accounts for better muscle development. Expanders continue to increase in resistance as they are stretched so that at the completion of the movement the greatest tension is obtained.
Expanders can be a very good substitute at home to weights and help in muscle development. Remarkable muscular definition of muscles is achieved, and shows exceptional development of the shoulders, arms, back and chest.
Buy CrossFit Chest Expander for 49.99
Adjustable Dumbbells
If you are looking a complete body-strength workout equipment that won't take up too much space, adjustable dumbbells are the way to go. These are great for at-home lunges, front squats, rows, shoulder press, and more. You can easily adjust the weight as per your workout routine, they're a lot more efficient and cost-effective.
"Physically the weight is distributed evenly and you can do both bilateral and unilateral work with solid grip," explained Laura Hoggins, author of "Lift Yourself" and trainer at London's the Foundry gym.
"Also, I am all about that incremental progress, and dumbbells come in smaller increments relatively. And they're fantastic for concentration curls, possibly the most important exercise of all time."