In Saudi Arabia, checking Iqama Status is of utmost importance because you can get benefit from many services related to Iqama and your job or profession. The online nitaqat service (mol) also provides the information for iqama color (red, green, yellow, platinum). Furthermore, you can also check Kafeel status. The status can be checked on the Ministry of Labor website.
Iqama Status Check Nitaqat ( Red, Green, Yellow) In Saudi Arab
To check the status by using Border/Boundary number, then enter it in the first option, enter six-digit code and Tap/Click on Search.
If you use 2nd option (We recommend it), enter Iqama/ Residency number. Enter "Nationality." Just enter the six-digit code shown below nationality option and Click/Tap on "Search."
If you use the 3rd option, then enter your Passport number, enter "Nationality." Just enter the six-digit code shown below and Click/Tap on "Search."
Scroll Down, and you will see the status as shown in the picture below.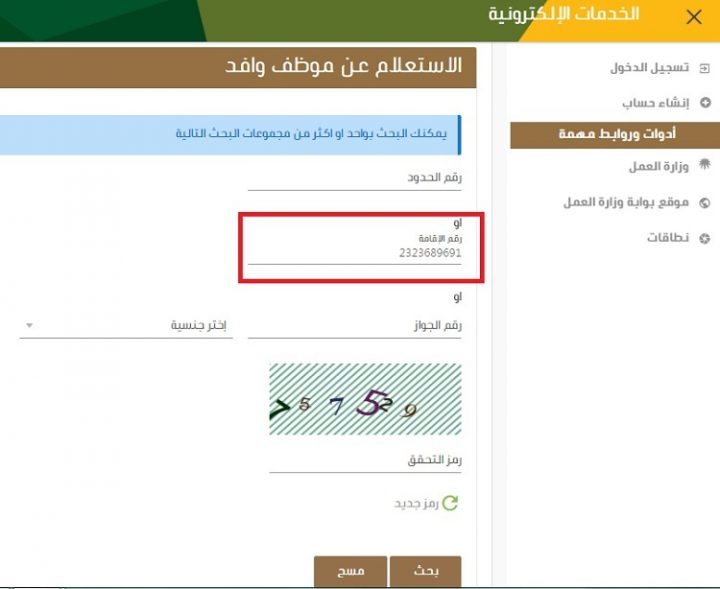 The next step is to provide the following details:
Your Full Name
Work Permit Number
Employment Status
Iqama Color (Red, Yellow, Green)
Company Legal System
The following results of checking the iqama color status show that the Kafeel is in the average green category of Nitaqat.
What is Iqama Color Nitaqat System:
Iqama color system is known as Nitaqat. Red, green, yellow colors reveal the Nitaqat category of a Saudi company. Nitaqat system was started in 2011 as a result of the Saudization policy of the Saudi Government. Each private company was bound to employ a specific number of Saudi citizens. The number and percentage of Saudi Employees in a company give a nitaqat color category. On the other hand, we can say that the Nitaqat color determines the percentage of Saudi employees in a company. Based on the Percentage of Saudi employees, a company or kafeel can be red, green, yellow or platinum.
Iqama Red Status:
If your Kafeel has red Status then your institute or Mosasa has a very low Nitqat rate because they have a less number of Saudi Employees.
The best course of action is that one should try to transfer themselves to any other company of Kafeel. Because the Saudi government can take any action against this company and can send back home the employees. Elaboration is as below:
The organization cannot get new visas for new foreign employees.
They cannot transfer sponsorship to another sponsor.
The organization renews iqamas for their employees.
The organization cannot open new branches.
The organization cannot let the employees change their profession.
If the organization wants to go with any Green or Platinum company, employees cannot stop them.
Iqama Yellow Status:
Yellow color indicates that your Mosasa Nitqat rate is not good but it can be better with a bit effort so you should ask your company to provide jobs to more Saudi citizens so that status can become green. But starting Jan 26, all Yellow category companies will be moved to Red Category.
Note: Status usually takes 3 months to change from yellow or red to green.
Iqama Platinum & Green Status:
If you see platinum status then your company Mosasa of Kafeel Nitqat rate is very good because they have a good number of Saudi Employees. If your Mosasa or Kafeel status is green then you are safe and no need to worry you can continue your job in the same company without any hassle because that Kafeel has good Saudization Nitqat Rate.
It means:
The company can hire anybody from any part of the world
Visa processing is really easy
Will be able to get VISAs Online
Able to change professions, even which are restricted to Saudis
Condition Free VISA transfer