Dubai has become synonymous with New Year's Eve, with the show it puts together for the world to see. With millions expected to make their way to Dubai on 31st December to witness the pyrotechnics, the city gets prepared, with an estimated 4,000 police officers and 2,000 security guards on-site to ensure everything runs smoothly.
Cities all around the world become competitive to up their game in staging the most glamorous New Year fireworks displays. But UAE hosts enthralling glamourous parties to the most elaborate fireworks and laser shows with performances from celebrities and musicians and amazing food from around the world.
With the famous Burj Khalifa Laser show and UAE breaking Guinness World Record with Emaar's 'Light Up 2018' for the 'largest light and sound show on a single building,' staged on Burj Khalifa, Dubai prepares to put together a spectacle.
Here is a list of places you can witness the amazing fireworks in Dubai to welcome 2020:
Places to be to watch Burj Khalifa Fireworks.
Firstly, if one wants to enjoy the fireworks from an ideal vantage point, then one should reach near the Burj Khalifa building at 5 PM in the evening.
Burj Khalifa: Emaar delivers its promise every year to put together a show that becomes a global spectacle and it will be nothing short of amazing this year as well. But in order to reach Burj Khalifa, spectators are recommended to reach early evening because the roads around the building will be closed to avoid traffic jams.
Burj Khalifa Fountain / Dubai Mall: There is no spot better than to watch Burj Khalifa's fireworks is from the footsteps of Burj Khalifa or Burj facing balconies at Dubai Mall. Although the time you select is of utmost importance as these places will get flooded with masses earlier in the evening.
Souk Al Bahar: Along the bridge of Dubai mall stands a dining and lifestyle destination that is ideal spot to witness Burj Khalifa's fireworks, and while you wait one can indulge in Arabic Style shopping and eatery. Don't forget to make a reservation ahead of time to book your spot at the restaurant.
Dubai Opera House: UAE's first-ever Opera house is not just home to concerts, theater, conferences, operas, ballet performances, and exhibitions but also is only walking distance from Burj Khalifa thus an ideal spot to witness the fireworks.
The Burj Plaza: Walking distance from the Dubai Mall, this is the place to be if you are with children as Aurora Gaming is one to keep them well entertained. And as you wait for the fireworks, there are of a number of places to dine-in and enjoy.
Burj Al Arab
Another amazing fireworks show is put together by a one-of-a-kind 7-star hotel in Dubai. Madinat Jumeirah is amazing to wait for the fireworks until midnight with over 40 restaurants, serving delicacies from all around the world. Another spot to witness the fireworks by Burj Al Arab is the Kite Beach, and one can make a day out of it by making it early.
Palm Jumeirah
Palm Jumeirah can be best described as "The Island of Happiness" because of the elaborate show it puts together. The iconic island puts an array of fireworks at midnight and hosts the most amazing party for the spectators. The best vantage point to view this fireworks show can be the Jumeirah Boardwalk – an 11km walk where you can see the fireworks light up the city skyline and sea.
Dubai Festival City Mall
IMAGINE, the laser, water and sound show put together every New Year's Eve is perfectly complemented by the fireworks show. Starting from 9 pm, make sure to find a viewing spot by arriving early or make an early reservation to waterfront restaurants.
La Mer
Head to the beachfront to witness glittering firework display as the clock strikes twelve. Watch the spectacle for free or book a table at one of the terraces at the many restaurants while you wait or just do both.
Global Village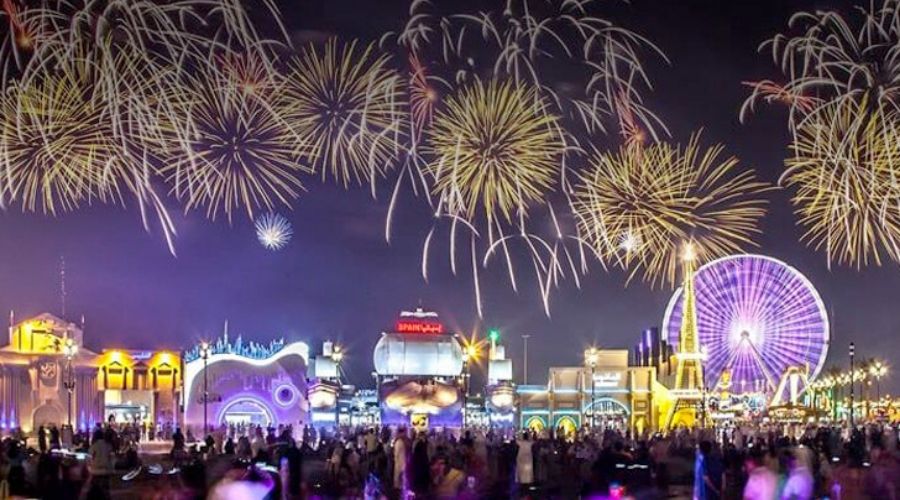 Global Village puts together a great show with live music, entertainment, and diverse menus while featuring massive fireworks displays that will occur at the same time that the New Year is rung in at seven countries around the world. Multi-Cultural Park is the place to be to spend New Year's Eve with different countries and its culture.
Al Seef
Take part in the Al-Seef Festival entailing a newly installed waterfront market, carnival rides, live music and an outdoor cinema this New Year's Eve. And as soon as the clock strikes twelve enjoy midnight fireworks at Al Seef.